By Efosa Airuehia | 30953 Comments | Drugs and Alcohol,
9 Best Apps for Alcohol Use Disorder in 2020
Quitting or cutting down on your drinking can be quite tasking. You have likely tried several times. Grit and determination alone may not always work. Obtaining professional help is necessary in a lot of cases. Technology can also help with this goal. One way is using apps to cut down or stop alcohol. There are several helpful apps for alcohol use disorder.
Cutting down or quitting drinking also involves changing your habits and lifestyle. Apps for alcohol use disorder can help you achieve these. We have looked through several apps to bring you the most helpful. These are based on their usability, design, reviews, and ability to help you reach your goal.
These apps are by no means a replacement for professional help. They serve as a tool to help in your recovery. As you know, there is no singular treatment for alcohol dependence. Hence, apps for alcohol use disorder are to be seen as "helpers" in sobriety.
Here are AddictionBlueprint's top nine drinking apps for alcohol use disorder.
1. Sober Grid
This app helps to connect people who want to get sober from alcohol and drugs. It is also for people in recovery focused on maintaining sobriety. Some people join this app to give support. On the other hand, some join to offer support.
Sober Grid can help you stay sober, while at the same time helping others. You can speak with someone in a similar situation on the app. Clicking on the "Burning Desire" button connects you to the virtual sober community.
You can also make sober friends from this application. The location of neighbors who don't drink or use drugs is helpful. It offers both local and international connections to people. Hence, 24/7 support is available.
Sober Grid has a newsfeed. Thus, you can share your struggles, experiences, successes, and thoughts related to your addiction. You are also able to track your progress on the app. The built-in sober calculator helps with this.
This app gives you the option to communicate anonymously in chat rooms. There is the option to send private messages. Additionally, you can read the news and even organize meetings.
The sobriety counter helps you unlock badges as you get more clean and sober time. Tracking recovery is made easy by Check-ins and Quests. As a result, you can make your recovery a daily habit.
Sober Grid is free on iPhone and Android. It is available for use if you are older than 17 years. Overall, it is one of the highly-rated apps for alcohol use disorder.
2. Nomo
Two dads in recovery are responsible for this application. Their names are Paker Stech and Michael James Boyd. They created the app when they were attending Celebrate Recovery.
Their goal was to make a great looking app, with multiple tracking clocks. Additionally, they wanted to be able to connect with other people in their support group. This app, launched in 2012, has several thousand users.
Nomo encourages you with its Chip Grid as you get to various milestones. You earn a chip to celebrate getting to 24 hours, 30 days, etc. Tapping on your chip reveals a grid with all your previously received chips. This encouragement keeps you motivated.
In a lot of cases, people abuse more than one substance. As such, they may have multiple sobriety dates for the various addictions. Nomo helps to create and track many sobriety dates.
This app helps with accountability. You can add a partner who can hold you accountable. Their contact information stays up-to-date in the app. Thus, you can make a call and connect anytime.
In addition, Nomo has sharable clocks. This feature gives the ability to share clocks with your accountability partners. When you share a clock, it shows up on their app. They can see how long you have been clean. Also, they can see when you last checked in. Notifications are also sent to them when you reset your clock.
Cravings can lead to relapse. You can refocus during moments of temptation by distracting yourself. Nomo has mini-exercises to take your mind off your addiction when you have urges to use.
These features make Nomo one of the great apps for alcohol use disorder.
3. I Am Sober
Along with tracking your sober days, this app helps you build new habits. It provides ongoing motivation by connecting you to a vast network of people with the same goal of staying sober.
The large sober community on this app helps you learn from others and contribute as well. This process is aided by sharing insights and tactics for staying sober.
The I Am Sober app has a sober day tracker. This feature helps you visualize how long you have been sober. You can also take a pledge to stay sober at the beginning of your day. Reviewing your day and logging notes helps with accountability.
Staying sober saves money and time. The sobriety calculator on this app keeps track of both. You can also recap each day and find patterns. Triggers can make your day more challenging. Thus, knowing your triggers can help with staying sober.
This app can also share your stories. You can take photos and journal your progress directly in the app. Tracking and celebrating your milestones is also a helpful feature.
When you initially create your account with this app, it shows you a withdrawal timeline. This feature gives you an idea of what to expect in the next few days and weeks.
I Am Sober is a helpful app for alcohol use disorder and other drug dependence. You can customize your experience. There is the ability to set your sober birthday, category of motivation, and the type of addiction.
This app is currently developing the ability to pair with support providers. This process would allow you to message your provider on a safe and secure platform. These contacts can be family members, recovery coaches, counselors, and treatment centers.
4. AlcoDroid Alcohol Tracker
AlcoDroid is an android app that tracks alcohol consumption. It is helpful as a drinks diary and a calculator to determine blood alcohol content. This process thus helps with altering your drinking habits.
Depending on the drinks you log in, AlcoDroid gives you an estimate of your blood alcohol content. It then plots a chart to show when you are below the legal limit or get back to sobriety. Your drinking is charted regularly. Daily, weekly, or monthly recordings help you set targets. Drink presets make it easy to log drinks quickly.
AlcoDroid aims to control the amount of alcohol you drink. Before going to a party, you can set a drink restriction. Your charts and test results can also be shared with other people. It is also social media-friendly. This capability helps keep you accountable.
You should never drive under the influence of alcohol. In place of alcohol testers, AlcoDroid can estimate the level of alcohol in your blood. Thus, your mobile phone can warn you of the need to avoid driving. These features make it one of the helpful apps for alcohol use disorder.
5. Drinker's Helper
This app is completely anonymous. It offers personalized support to help you cut back or quit drinking. Drinker's Helper is built by people in recovery. As such, they understand what it is like to have an alcohol addiction.
Components of this app include an alcohol tracker, a support group, and motivational exercises. You can take an alcohol test to assess your drinking. In addition to quitting, it can also help people who want to drink in moderation. The sobriety clock enables you to track your sober streak.
Drinker's Helper has multiple exercises in its library. These courses help you resist the urge to drink and build your motivation. There is the option to join a personalized support group. The advantage of this is getting encouragement from other people with similar drinking habits. You can also get insights from others on the strategies they use. For these reasons, we rate Drinker's Helper as one of the useful apps for alcohol use disorder.
6. Sobriety Counter
This fun android app can help you stop drinking alcohol. It has an attractive, bright, and colorful design. Sobriety Counter shows you how much money you save when you don't drink. You can also set goals on this app.
The scientific statistics showing aspects of your recovery is a nice touch. It displays mental health, blood circulation, cell regeneration, and risk of other diseases. There is also a built-in game called Memory. This game helps you manage your cravings, thus keeping you sober.
Additionally, you earn rewards that you can share with others. You can track your money savings easily, and also personalize your diary. Privacy is considered as you can remain anonymous on this app. This is an important feature of many helpful apps for alcohol use disorder.
7. Sober Time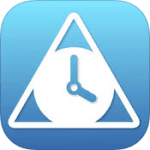 This app helps you track your addictions, stay motivated, and interact with others in recovery. Besides alcohol, you can track many other addictions. Sober Time has built-in goals with the option also to add yours. In addition, you receive motivational messages to keep you encouraged.
The sober community forum is helpful to connect with others. It comes with many timer options. You can also track your relapses and make notes on the app. There is the ability to share your progress and even personalize your app with many color themes.
Sober Time helps you track your sober time down to the second. The tracker updates in real-time.  As a result, you can see the seconds, minutes, hours, and days ticking. You get daily inspirational messages on this app. Hence, you continue to get consistent motivation. Even though the app helps set realistic goals for you, you can create yours. Personalizing this app is quite easy. You can pick one of the scenic backgrounds or upload yours.
Forums can be beneficial. The Sober Time forum is quite active, and you can read and discuss all addictions. There is the option to stay anonymous.
8. SoberTool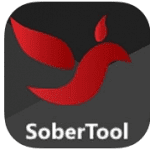 This app calculates days you have been clean and sober. It also estimates how much money you have saved. These features make it a helpful app for alcohol use disorder.
Staying clean means you get rewards on SoberTool. You also get daily motivational messages. Notifications come through the app to remind you to read these messages. Another great feature is the search engine. Typing in a word to describe how you currently feel leads you to answers to deal with those feelings. Thus, it helps with cravings and avoiding relapse.
SoberTool helps you change relapse thinking to recovery thinking. The anonymous chat forum also makes this a great app for alcohol use disorder. You can share messages, comments, give, and obtain support from others.
An addiction counselor in recovery developed this app. Some of the materials contain theories from the 12 Steps and cognitive behavioral therapy (CBT).
9. 12 Steps Companion
This sobriety tool is for members of Alcoholics Anonymous. It features a Big Book reader, search tool, sobriety calculator, notes, and AA contacts database.
Alcoholics Anonymous (AA) is an international organization of men and women who have a problem with alcohol. It is the oldest and largest alcohol support group in the world. AA helps people struggling with alcohol support one another. This support aids their recovery journey and, as such, their sobriety. The 12 Steps Companion is one of the tools AA uses to help recovery.
You can view the length of your sobriety each time you open the app. Direct access to the Big Book makes this one of the helpful apps for alcohol use disorder. You can highlight text, adjust the font size, and utilize a built-in dictionary. There are also over 60 stories from the first and second editions of the Big Book.
The note sharing capability means you can share on Facebook, Twitter, and email. 12 Steps Companion offers multiple direct AA contacts and answering services. In addition, there is a built-in routing to find contact addresses. It is easy to access the Maps app for specific directions.
Summary
Technology in the form of apps can be helpful for alcohol use disorder. They should, however, not be regarded as the primary treatment. Instead, they should serve as tools. Note that these apps do not offer medical advice. They also do not provide alcohol addiction treatment. You should not use them as a substitute for medical treatment. Alcohol withdrawal can be fatal. We strongly suggest you consult a doctor before making changes to your drinking habit. Moreso, if you have been drinking heavily for long periods.